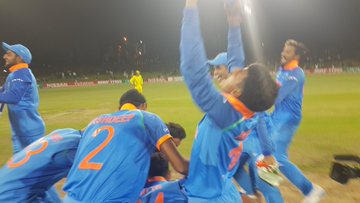 Manjot Kalra's fantastic century guides India to a record-breaking fourth title with an 8 wicket win over Australia
It's not saying much, but India were pushed closer in this game than they had been throughout the tournament. For the first time their star batsmen Prithvi Shaw and Shubman Gill failed to pass 40 and 50 respectively; for the first time while chasing they lost a wicket. All the talk pre-match had been about India's soft middle order, thus far protected by their steely top. Australia managed to penetrate it, but thanks to Kalra's cool head, India cruised to victory. Had he been dismissed it could have been very different.
It was an innings checkpointed by big hits, kickstarted by a mammoth over long on from a free hit, and the result effectively confirmed when legspinner Lloyd Pope was deposited onto the banks. But it was more an innings of sensible accumulation than belligerent ball striking. He appeared entirely unflustered, the only emotion betrayed when he nudged the single which took him to his century and levelled the scores. Harvik Desai, who's pressure-relieving 47 deserves not to be forgotten, finished things off a ball later to spark delirious celebrations.

Comfortable though it was in the end, Australia did push India harder than any other team so far, and for periods of the first innings, which swung back and forth, India were truly under pressure, with Jonathan Merlo's vital 102-ball 76 had defying them through the middle overs. It wasn't something they were used to, but they responded superbly between India, crucially grabbing the impetus in the final overs as Australia lost their final six wickets for the addition of just 33 runs.
Rahul Dravid Hopes Indian Colts Can Achieve More After ICC U19 WC Title
"I am really proud of the boys, proud of the effort that they have put in and proud of the support staff as well. I think the effort we have put in over the last 14 months have been sensational. They really deserved this, couldn't be really happier and proud for this bunch of boys. It's really nice for them and hopefully it's a memory they'll cherish for a long time, and hopefully it's not a memory that defines them and they will have a lot more bigger and better memories as they go on ahead in their careers,"  he said.
Dravid went onto add that he would rather all the attention of this win be directed towards his players instead of him.
"Coaching this team I tend to get a lot of attention, but it is really about the quality of support staff that we have had and the effort they have put in has been amazing," he further added.
The BCCI have announced cash prizes for coach Rahul Dravid (Rs 50 Lakh), players (Rs 30 Lakh each) and members of support staff (Rs 20 Lakh each).
COA head Vinod Rai and member Diana Eduljee heaped praise on the title-winning team and they also had only good things to say about coach and mentor Dravid.
"I congratulate the U19 team who have made the country proud. Head Coach Rahul Dravid played his cricket with sincerity and it was pleasing to see the boys uphold the value. They have been fantastic athletes and even better ambassadors. The boys have done so well, and I am sure they will work hard and climb the ladder and represent the senior team in the future," said Vinod Rai.
"The consistent performance is a testimony to the fact of BCCI's initiative in nurturing the talent and providing them an environment to the youngsters and perform to their potential. I congratulate Rahul Dravid and his team for returning home with the glittering ICC World Cup," said Diana Eduljee.
India lingered in the field after the innings, walking back only after a passionate group huddle. They seemed primed for the chase, their second highest in an ICC Under 19 Cricket World Cup. Their highest also came in a Final, and also against Australia, in 2012. Perhaps it's a trait to thrive on the occasion and the pressure. They, and Manjot Kalra, certainly thrived today.